When I first started out as a Content Creator, I was as lost as Nemo when it came to ALL the things. I didn't know the first thing about taking photos, editing said photos and I definitely didn't know a thing about creating a cohesive theme. I was a complete and utter newbie.
What helped me navigate the convoluted sea of content creation, was doing some research and putting what I learned into practice. It took me a good two years (and lots of sleepless nights!) to get to the place that I am now. I know that there's still so much more for me to learn, but I've definitely come a long way.
As I learn and grow, I want to share some of the information that I pick up along the way. Hopefully it makes your journey to becoming a kick ass Content Creator a bit easier than mine!
The first nugget of knowledge that I am sharing are 5 must-have apps that will change your life and have you singing praises to baby Jesus. Hope they help!
1. Planoly
Planoly is an app that allows you to plan, manage, schedule and auto-post your Instagram pictures/videos from a desktop or mobile phone.
I discovered Planoly last year and it completely changed my content creation process. What I love most about it is that it allows you to upload your assets and move them around on a grid to position them in whatever way your heart desires. This should be music to your ears! Instagram is such a visual-driven platform. As such, being able to strategically plan out your posts is a must and Planoly makes it a cinch!
Price: free – $159/month (Definitely start off with free)
2. Trello
Trello, oh Trello. Where have you been all my life?! If you're like me and organization makes you want to curl up into a ball and give up on life, THIS. IS. THE. APP. FOR. YOU! It's a beautifully designed app (shoutout to the UX team) that helps you keep track of both your big and small projects. Seriously, I manage everything from my client work to my personal life on this app. It's everything!
My favorite thing about it is that you can move things around, create boards and checklists with very little effort. It's a game changer.
Price: free – $20.83/month (such odd pricing lol)
3. VSCO
Ever wonder how your favorite influencers get such beautiful pictures? A big part of it is photography, but another part of it is editing. A good filter can take your photo from single digit likes to Instagram stardom in the blink of an eye.
VSCO is THE only editing app that you really need to elevate the look and feel of your content on Instagram. It offers an endless amount of filters and adjustment settings for you to play around with. Almost too much!
What I love most about VSCO is that it allows you to copy and paste edits from one photo over to another. This helps you keep some consistency on your Instagram account.
For example, my theme on Instagram is pretty white. As such, I use the app to brighten up all of my images so that they all have a similar look and feel.
Price: free!
4. Canva
I consider myself to be a pretty creative person, but when it comes to making graphics and things like that, I admittedly suck! It's just not in my skill set. *Cries self a river*
Canva is an amazing app that allows you to create beautiful designs for use on Instagram, Instagram Stories, Facebook, websites and everything under the sun. The best thing about it is that a two-year old can use it! Seriously, it's fast and easy.
They have hundreds, possibly thousands of pre-made templates, graphics, fonts for you to choose from and edit to make them your own. It's a great way to elevate your content and have people thinking your some wonderful graphic designer! I won't tell if you don't!
Here's a mood board I created using the Canva app: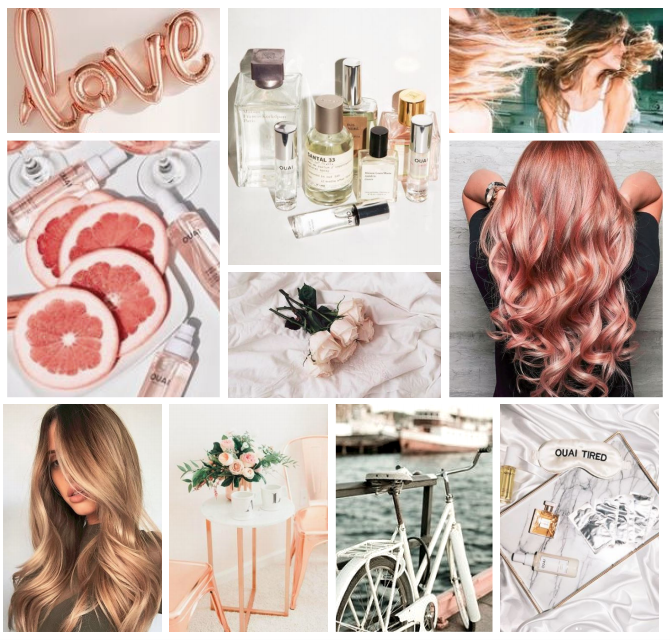 Price: Free (for the most part). However, there are some design elements that you have to pay for.
5. Photoshop / Lightroom
Photoshop and Lightroom are probably the most expensive apps on this list. However, I wanted to include them for any influencer/Content Creator that really wants to take their photos to the next level. I'm going to keep it real with you all for one quick second. Phone apps like VSCO, Afterlight and Snapseed are great, but they can only do so much. Yea, I said it.
If you really want to have complete and total control of the hues, shadows and saturation of your images, go ahead and make the investment in Photoshop AND Lightroom. There's a bit of a learning curve, but once you have a MODERATE understanding of them, you'll be able to edit your images in no time at all.
Price: $9.99/month. The great thing is that Adobe offers a Photography plan which is a monthly subscription service for both Photoshop and Lightroom. Hooray!
And that's all she wrote! All 5 of these apps will help elevate your content and just make your life that much simpler. If you found this helpful, let me know in the comments below and I'll come back with a new list next week!