So…I went to Macy's to go to the MAC counter to pic up a new eye brow pencil…buuuuuuut of course, you can't go to MAC and only buy one thing. So here is what i picked up:
1. Spiked Eyebrow pencil
2. Zoomblack Masscara
3. Rich Ground Fluid Line Eye Liner
4. Eye Liner Brush
5. Melon Pigment (loves this one!)
Look at how it sparkles and shines….Lord knows I don't know what i'm going to do with it yet…but mama's gonna figure it out.
Although this one is an eye liner, it's such a gorgeous color that I think
i'll
use it as an eye shadow. We shall see. I think I'll play make-up tonight….if i don't go out.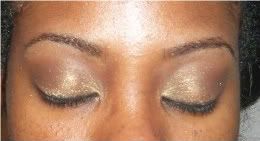 I was playing around with my new goodies. I'm loving that Melon Pigment!